eChitFund : Chit Fund Management Software for chit funds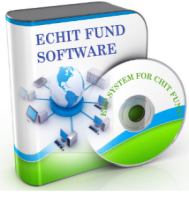 eChitFund is a complete ERP solution for chit fund companies. eChitFund software is designed specifically to meet the unique needs of chit fund and kuries companies by providing an integrated accounting package, subscribers management, agent management, auction and prize management. eChitFund is web based and is built module wise to get effectively customized as per the requirements of the chit fund client.
You can also provide secured online access to it members, members can see next payment information, amount to be paid along with Loan details etc. It comprises of all the essential facilities and features which required to streamlining your chit fund activities. eChitFund software is simple and easy to understand. A person having basic computer knowledge can master this software in No Time.
eChitfund Key Features
Work from anywhere You can manage your Chit Fund activities from anywhere, anytime. All you need is a web browser and an internet connection. Its that simple!


Website Integration & Online Access to Members/Subscribers.
Online access to members or subscribers, Integrate with your existing website.


SMS Alerts and Intimation
Send Intimation/Auction Details through SMS/email. SMS notifications will add one more advantage to chit fund business and will help your resource be in advance of the competitors.


Multiple Branches
Manage multiple branches from one location.


Transparency & Client Satisfaction
Transparency to subscriber-Leads to confidence With Client Satisfaction Increase Business with Peace of Mind.


Cost Effective
The Most Efficient & Cost Saving Way to manage your Chit.
Member/Group Management: Member management is easy. Member information is taken only once, when first time member comes.


Prize & Intimation Management:Chit prize management is easy, we can enter discount amount and system will perform all necessary task like distribution of discount amount to all members. .


Subscription Cheque Management: Subscription entry is simple and straightforward. If member have more than one chits from different groups subscription can be done for that.
eChitFund Reports:
Subscriber ledger
Group wise Outstanding statements
Collection wise Outstanding statements
Branch wise Outstanding statements
Company wise Outstanding statements
OUTSTANDING REPORT - ALL
SUMMURISED OUTSTANDING REPORT - PRIZED
SUMMURISED OUTSTANDING REPORT - NON PRIZED
Auction dates list
Prized subscriber list

New Reports

Lien Confirmation Report
Prize Money Commitment Report
Daily Transaction List
echitFund offers a range of chit fund softwares to cater to the needs of different business segments. The primary editions offered by echitfund are Basic, Standard & Enterprise.